A SOCIAL
IMPACT GAME
About
Survivance is a social impact game that asks us to explore our presence and create works of art as a pathway to healing.
Gameplay emerged from Gerald Vizenor's term survivance (survival+resistance) and the Wisdom of the Elders Discovering Our Story project.
The game was released in 2011 and archived in 2021 in respect of the loss of Haida elder and storyteller Woodrow Morrison Jr. Before it was archived, it was shown at imagineNATIVE Film + Media Arts Festival 2013 and nominated for an award at IndieCade 2016.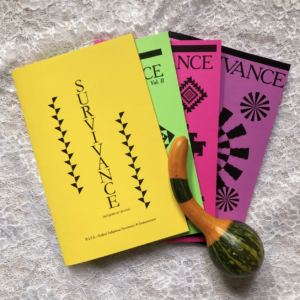 DESIGN YOUR OWN
Any Indigenous community interested in playing Survivance is welcome to adapt the game for their own self-determination.
GAMEPLAY
Survivance is a journey of completing quests informed by elders and storytellers Woodrow Morrison Jr. and Roger Fernandes based on the Wisdom of Our Elders Discovering Our Story project. You can adapt gameplay from How to Play.
Self-Expression
Survivance can also be adapted from a social impact game into any form of self-expression that you determine. As an example, Demian Dinéyazhi' designed the ongoing sovereign zine Survivance: Indigenous Poesis.
THANK YOU
Survivance was made possible thanks to Aboriginal Territories in Cyberspace, Aboriginal History Media Arts Lab, Potlatch Fund, and Simon Fraser University's School of Interactive Arts & Technology.